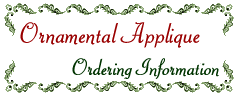 All patterns are available Retail and Wholesale
(Wholesale customers must have qualifying credentials.)

Need a Printable Order Form?

For printable "pattern specific" informational pages including color photographs of all the block patterns and/or a downloadable catalog visit the Catalog Page.

Ordering Online is easy using
the "secure" Pay Pal Shopping Cart
all you need is an email address!
(You do not have to sign up for a Pay Pal account
to use this service.)
or
You may place your order by phone, fax, or snail mail. I accept personal and business checks, money orders, Visa, Master Card, COD. (Please do not mail cash or email credit card numbers!)

If you get the answering machine- please leave your name and phone number so I can return your call.