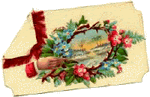 Fringed antique Calling Card-
A bent corner on a card was meant to convey a secret message to the recipient.

Twenty-five, ornately appliqued quilt blocks including baskets laden with Roses, Forget-me-knots and delicate Pansies. Wreathes with doves perched among the ribbons or clipper ships nestled within- sounds like a description for an antique Baltimore Album quilt. Not this time…
This time we have a collection of Victorian Calling Card designs!
Having long admired the quaint beauty of the antique lithographed calling cards, it occurred to me that many of the motifs, inked sentiments and arrangements from these small treasures were very similar to the ones I loved in the Baltimore Album quilts.