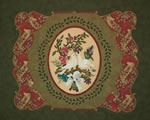 An Affectionate Offering
**New**
Delicate dimension with silk ribbon embroidery enhance this Victoriana wallhanging.

Charmingly Rosey
***New***
Stylishly framed rose motifs and a variety of setting options including,
(gasp!),
a pieced Ohio Star.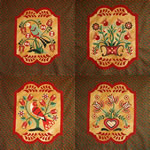 A Pennsylvania Heritage
Twelve different Fraktur inspired album blocks
with distlefinks, hearts, baskets and urns.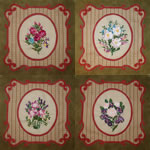 Petite Ribbonry
Silk ribbon bouquets each in an elegant frame.