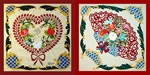 From the Heart
and
Victorian Fan
Two uniquely set, 24" Baltimore Album blocks. The reverse applique heart is a very traditional motif with a new twist and the fan is an elaborate cutwork motif, unique to the traditional Baltimore Album style.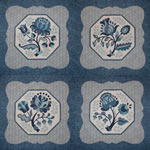 By G--! it's Blue
A collection of twelve album blocks inspired
by Blue and White china.