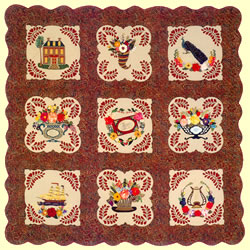 It's hard to believe but this unique Baltimore Album was designed strictly as a teaching tool. Eager to try incorporating silk ribbon embroidery and unusual fabrics into a Baltimore Album for a new class idea, this quilt was the recipient of all of the ideas I had been thinking about!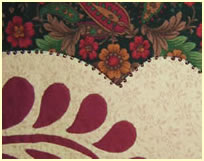 Close up of beaded applique edge.
Working with a beautiful paisley, I accentuated the two different 24" frame designs by beading the inner edge with a small embroidery bead as they were being appliqued into place. I found this accented the cutwork frame and added a little sparkle.
Although, adding a bead on the needle each time I took an applique stitch is not a complex idea- keeping them even is, (especially when working at my favorite stitching time- late at night). In order to keep the beads evenly spaced. I did take the extra time to mark small placement dots around the frame, to help me out.