This lushious fabric is one of my very favorite fabrics to dye and "fussy cut" for shaded flowers in my applique. Sateen is a 100% cotton fabric with a twill weave and mercerized threads so it dyes beautifully vivid colors and there is an irresistable sheen to the fabric. From the first time it emerged from a dye bath, I was hooked!
This fabric is easy to applique and frays about as much as traditional cotton. I am partial to mixing it with other fibers to get more texure into flat applique, like the Calling Card blocks.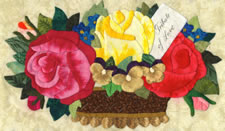 Group 1

Group 2

Group 3

SATY01

SATY02

SATY03

SATR13

SATR14

SATR15

SATR16

SATR19

SATP31

SATG41

SATG42

SATG43

Colors may differ slightly from those shown.
Due to shrinkage when dying- estimated size is 17"x 21"
Colors and availablity are subject to change so
check back here often.