Lots of texture and lots of dimension. This is the goal for each of the five motif blocks. Of all the silk ribbon projects I have designed, incorporating silk ribbon into these Baltimore Album style blocks has to be my favorite.
Not to leave you stranded- you can order the silk ribbons and hand dyed silk fabrics to achieve the same look, even a selection of Yuwa fabric that could be used within your frame.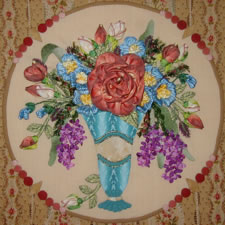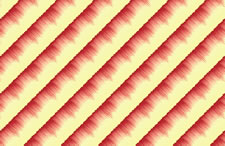 Fabric design for the center rose.
Just one more note- This quilt has given me one more creative outlet. I have been patiently, (and sometimes not so patiently), waiting for the moment in time that I could have even more control over the fabrics I use by custom designing and printing them myself. Talk about the ultimate control....
It all started with the idea of a fabric that would mimic the look of a finely striped rose. The computer program that would let me design the fabric has been sitting on my computer for a while, waiting for the right printer to come along....
Not that I purchased my latest printer for that reason, in fact I didn't realize that the professional photo printer would even do what I wanted but it does. Visit the Applique Companion for more information on my fabric design.