Many of the quilts shown among the pattern pages were stitched by my friend and travel companion- Mary Anne. She has an incredible knack of finishing things much faster than I can and stitches very well!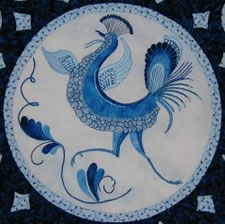 While looking for blue and white design inspiration for a wedding quilt, she ran across a Russian pottery called Gzhel.
Hand painted on the pottery are these wonderful birds and after some further research, Mary Anne and her husband recreated these great designs.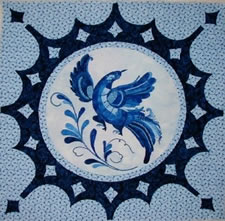 She has finished the quilt and gave it to her son and daughter-in-law, who are delighted with their heirloom. I hope to eventually have a photo of the completed piece for you to see...