What's new continued...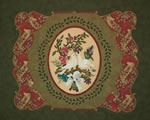 **New**
An Affectionate Offering
Hand dyed silk ribbon has always been one of my favorite ways to add a little elegance and dimension to applique. It seems it is undergoing a renewed interest, (just as it is harder to find), and I have always loved using my hand dyed variegated colors, exclusively, for projects that incorporate this beautiful art. Now you can purchase new color variegations along with the favorites from my old color card. To make it easy, it is now available by the yard, in my two favorite widths, 4mm and 7mm. Take a look- on the Silk Ribbon Pages!

Maybe the most exciting addition for me is the opportunity to offer yardage of select fabrics that I think are just beautiful and have inspired many my latest applique designs. Many of you are aware of my fascination with Yuwa fabrics from Japan. It seems that a lot of my newest creative inspiration is due to these incredible Victorian reproductions. Since they are rather difficult to find here in the states, I have chosen to start with a few select bolts. I will be happy to add more as I see what the response is to these. More information on the Yuwa fabric and other bolted fabric can be found on the Yuwa Fabric pages.
| | |
| --- | --- |
| | |
I can't think of anything more important, (withstanding the fabric choices), to make your applique "shine' than the tools we use. My favorite size 12 sharps, a range of 50 weight silk thread, marking pencils, and links to all of the notions and tools I can't live without can be found on the Extra's pages along with the fabrics. Items that maybe our favorite quilt shop isn't able to carry, never fear, I will help you find them here or somewhere on the internet.