The challenge began when I found another one of those Yuwa prints that I am so attracted to. This one had the most wonderful, Victorian wallpaper look. It was just one of those fabrics that I found just irresistible.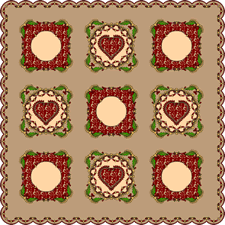 Rhapsody Quilt Mockup
The frustration was that there was only 3- half meter cuts available and for a long time I could not figure out how to design a quilt around this small amount of fabric. Finally, I got the idea that I could economize the fabric and frugally cut the two companion blocks out using the leftovers from the main frame in the center of it's companion. Nothing like a self imposed challenge!
So, as you can see to the left in the quilt mockup, there will be five, motif blocks, (vases and baskets), and four companion blocks with a reverse applique heart within a scalloped circle.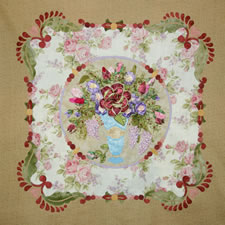 Mary Anne's version