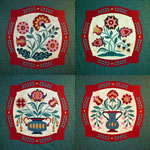 Red and Green Folk Art Album
Nine album blocks inspired by traditional
"Red and Green" antique quilt blocks.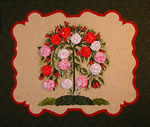 Weeping Tree Rose
Based on an antique theorum this wallhanging is laden with lavish dimensional silk roses.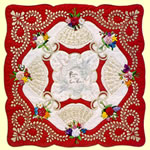 Token of Remembrance
Intricate reverse applique feathers and
an inked center medallion make this
wallhanging a delightful challenge.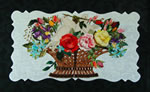 Tokens of Love
The first pattern in a series of sixteen dimensional applique and silk ribbon
Victorian Calling Card designs.